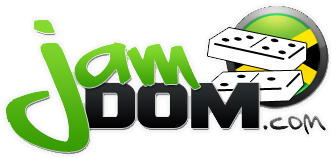 Get Your JamDom
VIP Membership
TODAY!
at the current rate of
$74.95 per year
and Lock In this Rate
Upon Renewal!
*Please be advised that our Payment Processor requires that Canadian companies with customers outside of Canada conduct business in US Dollars, which is the common currency of trade.
If you live outside of Canada, your JamDom membership will appear in US Dollars on your credit card statment.
Canadian customers will see their membership appear in Canadian funds.


Prefer alternate payment option in
Canada or Jamaica?

EMAIL



today.

Need to Whisper?

Don't want to talk in the lobby nor talk on tables? Send a Private Message for only him or her to see!

Can't get into FULL Lounges?


Tired of waiting to get into a full lounge? Well wait no more with immediate access to any lounge at any time!

Late for a Tournament?

Bypass the line and go to the top of the Substitutes List with your VIP pass!

Multi-tasking while playing?


Enjoy the convenience of an audio alert from the JamDom lady whenever it's your time to play! (*Allow 2 to 4 weeks for personalized audio alert)
Click Here to See More Features
Get Your Vip Membership Today!
It's Worth It...
Check Out all the Features Below:
Immediate Access to ANY Lounge at ANY TIME even when they are full
Priority Seating in Tournaments
'Bredrins List' feature to keep track of the whereabouts of your friends
MIC feature while you are a spectator on a table
Express yourself using various Emoticons
Featured on VIP Panel
Screen name announced upon entry into a lobby


(Please allow 2 to 4 weeks for personalized audio alert)

JanDom Lady tells you when it's your turn to play
(Excellent for Multi-tasking)
Participate in Exclusive VIP-Only Events
FREE entry into weekly tournaments (4 different game styles)
Upload photo & player introduction on your profile page
Chances to earn prizes
Keep your hard earned rank & points
Automatically boast on your Facebook Wall when you drop 6 love & "buss" players
Play in Ranked Lounges
24/7 access to JamDom.com to play dominoes in comfort of your home or work
What Current VIP's Are Saying
---
---
---
All membership fees paid are non-refundable. Membership fees paid on one account may not be transferred to another account. If an account is closed while there is time left on a current membership, the membership may be re-instated on the original account name for a $10 re-instatement fee if and only if it is being applied to an account with the same user name as when the membership was originally instated.